VideoGet as your YouTube grabber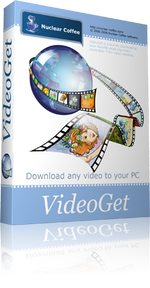 VideoGet is an easy-to-use YouTube grabber, designed to help you to grab video from 750+ websites and convert it into any desired file format. This YouTube grabber supports the most popular websites like YouTube, Metacafe, GodTube, Yahoo Video, Break.com and a lot more.
VideoGet is lightweight, easy and safe. This YouTube grabber downloads and converts your videos into all popular formats - AVI, MPEG1, MPEG2, WMV, FLV, MP4, 3GP, MP3 and more than 20 other formats. Having converted videos you can either watch them on your PC with any media player or on your cell phone, iPod, iPhone, PSP or Zune etc. In addition, VideoGet comes with Internet Explorer and Mozilla Firefox plug-ins that let you download video in just one click directly from your browser. Moreover, this lightweight YouTube grabber provides a solid amount of options, which allow you to adjust video settings in order to get the best video quality.
Which websites does VideoGet support?
VideoGet currently supports download videos from:
Google Video,
Yahoo Video,
MySpace,
DailyMotion,
AnimeEpisodes.net,
DumpALink,
Glumbert,
MetaCafe,
PhotoBucket,
Break.com and a lot more...
Click here to see full list.
VideoGet features
Grabs video from YouTube and other 750+ video websites. VideoGet allows you to grab video from all popular video-sharing websites. For a full list of supported websites, please click here.
Convert video to variety of video formats. Now this YouTube grabber supports more than 20 video formats, including the popular *.AVI, *.MPG, *.WMV, *.FLV, *.MP4, *.3GP, *.RM, *.MOV, *.MP3, *.WAV.
Convert video to any portable video device. With VideoGet you can quickly and easily grab video for any of your devices, such as iPhone, iPod Video, iPod Nano, iPod Touch, PSP, Zune, iRiver Clix, or AppleTV.
Change the size or quality of grabbed video. VideoGet allows you to change the quality settings for downloaded video as well. Now you can customize file sizes (lower quality results in smaller file size and higher quality - in larger file size). You can also adjust width / height, video / audio quality, video frame rate and audio sampling rate of encoded video.
Grab 18+ video. VideoGet provides the possibility to login on YouTube due to inappropriate videos for which we need to prove we are 18+ years old.
Download and convert in one click. Click a single button, and this YouTube grabber starts downloading and converting all selected videos.
Internet Explorer and Mozilla Firefox plugins allow you to add, download, and convert any video in just one click while you are surfing the web.
Automatic updates. VideoGet receives all updates automatically, allowing you to always be up to date with the latest version.
Resume broken download. In case your Internet connection was broken, this YouTube video grabber can resume broken download instead of downloading file from the beginning.
Simultaneous download of multiple videos. Now you can download several videos at the same time. ouTube video grabber allows up to 20 simultaneous downloads, which makes the download really fast.
Download next while converting. While the previous video is being converted, the next one isn't waiting - it's already being downloaded.
Simultaneous converting of multiple files. YouTube grabber supports simultaneous converting of multiple files, so that the files on the list could be converted as soon as possible. Up to 10 videos can be converted at the same time.
MMS protocol support allows you not only watch an online stream which uses MMS protocol, but also download such videos easily.
Batch download supported. Download video in a batch mode to save your time greatly.
Download through WinInet API, which is used by Internet Explorer, allows easy and fast download of Flash movies.
Manage your video downloads by pausing / resuming or terminating them.
Broken website report allows you to report a broken web site just in one click and we'll repair it immediately.
Easy-to-use concept. This small and compact YouTube grabber is designed to provide nice, simple interface and a solid amount of options.
Smart naming. When you download online video with VideoGet, it pulls the proper title from the website. You can still rename files to whatever you like.
Fast speed and high quality video download. VideoGet provides high quality fast downloads due to its built-in features. Also this video grabber allows you to grab YouTube video in high quality, if available.
No special system requirements. YouTube video grabber works on any Windows version (NT/2000/XP/Vista/Windows 7) and supports all types of Internet connection.
More than 20 languages supported. Supported languages: English, German, French, Italian, Dutch, Spanish, Japanese, Korean, Danish, Swedish, Czech, Portuguese (Brazil), Greek, Russian, Ukrainian, Polish, Turkish, Bulgarian, Romanian, Hungarian and Arabic.
Product Screenshots